Hi all
I have been a member for a little while (to get the L1 service manual initially) but only just got round to posting.
I have always rode bikes for the last 25 years and currently have the two. Might look a strange pair but when you ride both it makes perfect sense. One, the Kawi Z1000SX for the longer journeys and when the old pillion needs a ride, and the other, my GSXR 600 L1 for the fun fun fun rides.
Always had ZX6-Rs up till June last year when I decided to switch to the GSXR after a test ride at the local dealer. I have to say its an excellent handling and comfortable bike and really comes into its own in the corners. My perfect GSXR though would be the L1 but with the L0 front headlight arrangement. I'm getting used to the L1 front but its just not quite as mean and modern looking as the L0. Brilliant bike though.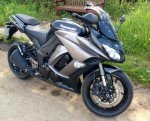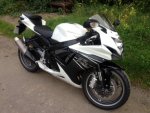 I hope the forum takes off.
Ray