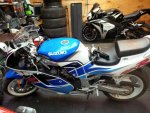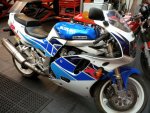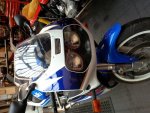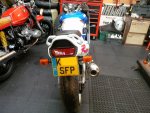 Hello.
I will soon have for sale, an extremely rare GSXR750. It has been dry stored for the last 22 years and has only covered 530 miles since new.
I bought two bikes from the widow of the owner, who, in his day, was a bike mechanic and a keen racer. The bike was bought new with the intention to use it at track days. So with this in mind, it was completely stripped of the original plastics, mirrors etc. which were put into storage. At around six months old, it was damaged in a spill. Since then, it has been laid up in a dry store until I bought it four years ago just after he died. It needed a new tank, brake pipes, battery etc. as well as re-assembling. Unfortunately, it fell at a time when I was starting a business, so I didn't have the time or funds to do anything about it until now.
I intended to use it myself, but have since realised, being short and getting on a bit, it's completely unsuitable for my cruising, laid back style of riding.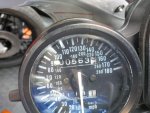 The pictures were taken a couple of days ago from a proper bike dealership where it's in for an MOT and tune up. I have heard from them since and there are only a couple of tweaks needed to get it through the test. I have told them to do an in depth tune up, which will involve a full carb strip down. Barring any hiccups, the tune up is going to cost me in the region of £300.00. An important thing to add though, is that the tyres are the original set that it's been stored on. These are okay for the MOT, but I wouldn't trust them for any significant speed. I spoke to a tyre supplier and gather that there are many different kinds, all with a personal preference to the rider. On this basis, it wouldn't be wise to put on a standard set. Specific tyre fitting can be arranged before collection if the bike is going to be ridden away.
Once I get it back, I can video it running.
As of a price? Who knows. It's a one off. I have spent quite a lot as well as the original purchase price. I need someone's help and guidance as to what it's worth.
Thank you in advance.
Jerry.