Hi,
New to Gsxroc and looking forward to help and chat in the coming months.
I have recently got back in to motorbikes after a decade out in the 4 wheel land. Was a complete biker for years, passed test at 17 before a car and had bikes up until I got married and had kids 12 years ago. The bug has been biting me always so I decided to bit the bug back and get back to bikes. When I was younger I always loved my Gsxr 600 SRAD, even though my last bike was a Kawasaki zx7r, so I decided to get an SRAD.
I made the mistake of bidding on a 1998 black and red 600 SRAD on eBay and put in a bid of £1050 and to my surprise won. So I commited to it after realising it was in Bristol some 4 hours away.
So with that and after having it serviced and a little bit of end of summer fun I have decided to restore it. Saying that it is not in a really bad state, been dropped on one side so a few scratches on the fairing, runs well, has 30k in clock and is in need of some TLC.
It needs a good strip down, degrease, clean, Polish and a good overhaul in the mechanics department which I will try and do most my self. I am sure along the way I will ask many questions and help or advice to bring this baby back to her best.
A couple of pictures on first getting her home and one just after a quick wash.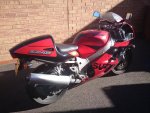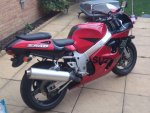 Happy new year