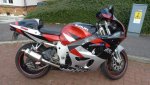 I bought this last week on a wave of nostalgia - I bought one of the first SRAD 750s new back in '96 and ran it for years.
It's a lovely bike and great fun, but years of football and running have done for my knees, years of lugging amps and PA kit to gigs, as well as toting a very heavy Les Paul for hours at a time have done for my back. so I'm looking for a more upright bike.
Spec :
-Suzuki GSX-R750 SRAD
-1998
-19,800 miles (verifiable to 2005 via the DVLA site)
-MOT June 2017 (one advisory on exhaust level)
-Aftermarket Swingarm
-Aftermarket Rearsets - (I believe the rearsets and swingarm are both Harris)
-Short adjustable levers
-Stubby exhaust
-Aftermarket Grips (not sure what the make is, but they're really cool)
-Nissin Calipers
-Braided hoses
-HEL Radiator hoses
It's an 18-year-old bike and has a fair few marks here and there, but it's still a great looking bike.
The inevitable 'bad bits' are: -
Slight judder on brakes - you can feel it through the lever, but not the bars. It's almost like the sensation of ABS.
Exhaust is loud (for me anyway) and I think the cause of a flat-spot just before the powerband when giving the bike a wee bit welly from a standing start
I'll put more photos up later, any questions, just ask.
Price is
£1250