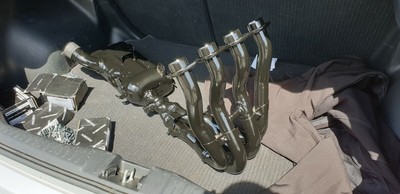 Find many great new & used options and get the best deals for Suzuki GSX-R600 2008-2010 K8 exhaust system - BLACK COATED with EVER-SLIK® 1201 at the best online prices at eBay! Free delivery for many products!
This is my GSXR-R600 2008-2010 exhaust headers and Cat. The exhaust system done 820 miles back in 2008, I then changed to a race system and this hung on the garage wall ever since.
Recently, I decided to coat the exhaust using a very special and expensive coating called Everslik® 1201. This coating is awesome! It is used in NASA space shuttles and Oil & Gas industry parts that need superior corrosion resistance and smooth finish.
This is NOT just a black paint.
the exhaust was shot blasted, masked, coated, cured, polished. Lot of time in this...
Here are the benefits of the coating
EVER-SLIK® 1201 Barrier Coating
Product Description:
• Solvent based epoxy system
• Inherent hydrophobic properties
• Thermally cured coating allows coating to repel water and other process fluids
• Extreme toughness, flexibility and durability
• Outstanding chemical resistance
• Superior Corrosion Resistance
source: mhttps://www.pexa.com/uploads/files/Everslik1201TDS.pdf
This coating can cost upwards of £700 due to the time to cure and the coating itself is very expensive (and hard to buy!).
Just look at the photos of this exhaust when the
sun light hits it
, its
amazing
! This would be an amazing addition to any GSX-R. Kinda wish I had done this to my own bike now
This exhaust will now never rust, there are 3 coatings on this so don't expect it to ever fade. I am going to upload a wee video on youtube when I get home tonight to show it fully, will post the link in the description later.
Thanks for your views, happy bidding.